E. 73rd Avenue: Washington Street to York Street - Study with Preliminary Design
Project Overview
Adams County is undertaking the design of roadway improvements on E. 73rd Avenue, Race Street and E. 74th Avenue between Washington Street and York Street (see project map below). A Preliminary Design phase was completed in early 2021 which included a roadway improvement study of the corridor. The overall objective of the study was to evaluate the corridor for improvements to auto, bike, and pedestrian safety and mobility with a focus on increasing accessibility and neighborhood connections. The study also examined drainage systems on the corridor. The Preliminary Design phase was concluded with the design of the preferred alternative.
Two public meetings were held in connection with the Preliminary Design phase. In October 2020, the County shared three draft road design alternatives in a virtual public "meeting room", which was open to the public for two weeks. Based on the comments and concerns received from the community, along with an in-depth analysis of technical concepts and requirements, the project team recommended a "preferred alternative" for the corridor which was shared at a second virtual public meeting in early March 2021.
Project Location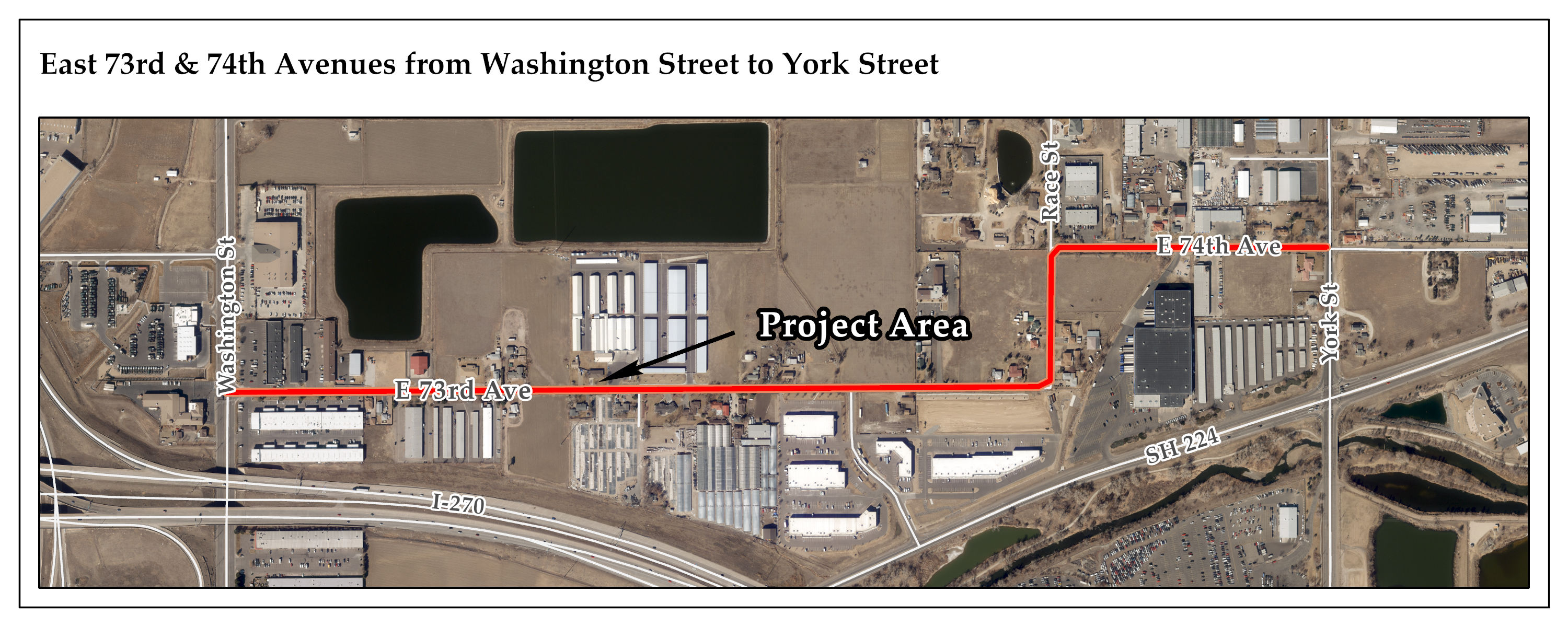 Click here for photos of the existing project area.
Project Update
The project has recently entered the Final Design phase, which is expected to be completed in fall 2022. This phase will advance the design of the preferred alternative, addressing improvements including, but not limited to, roadway widening, curb & gutter, sidewalks, curb ramps, pedestrian crossings, lighting, utility relocation, and improvement of the stormwater drainage systems.
The county will present the final road improvement design to the public for feedback in the next public meeting. The tentative date for the next public meeting is:
Virtual Public Meeting (Final Design) – Fall 2022
Notifications will be sent out prior to each virtual public meeting to property owners, residents, and businesses in the project area.
Contact Information
If you are interested in receiving information and updates about the E. 73rd Design Project, please contact Liz Palmquist, Project Outreach Liaison, at [email protected] or 720.280.3342.
For more information about the project, please contact Adams County Public Works at 720.523.6875.