Todd Creek Town Hall Snapshot
The Todd Creek area encompasses approximately the area between 136th Avenue to 168th Avenue and roughly Holly Street to Riverdale Road. For this Town Hall, postcards were sent out to 12 neighborhoods located in the area. This report will give a comprehensive overview of what the county is currently addressing in the Todd Creek area.
Identified Neighborhoods:
Eagle Shadow Residents
Todd Creek Meadows Residents
Todd Creek Farms Residents
Hi-Land Acres Residents
Creekside Estates Residents
Foxridge Estates Residents
Silver Springs Residents
Centennial Estates Residents
Baseline Lakes Residents
Bartley Residents
The Ridge at Riverdale Residents
Boston Farms Residents
Neighborhood Crime and Traffic Incidents
View current crime and traffic incidents as reported to the Adams County Sheriff's Office with this interactive map.
Area Demographics
|   | Todd Creek | Adams County |
| --- | --- | --- |
| Population | 4,073 | 490,000 |
| Avg Resident Age | 40.7 years | 32.4 years |
| Avg Home Price | $438,717 | $189,400 |
| Avg. Househould Income | $95,132 | $56,633 |
| Avg Commute Time | 26.7 minutes | 28.5 minutes |
| High School Diploma or higher | 97.5% | 81% |
| Bachelors Degree or higher | 32.3% | 21.6% |
Ethnic Demographics
|   | Todd Creek | Adams County |
| --- | --- | --- |
| Caucasian | 79.6% | 86.7% |
| Hispanic | 13.6% | 39.2% |
| Asian | 3.9% | 4.2% |
| African American | 0.9% | 3.7% |
| American Indian | 0.9% | 2.2% |
| Multi-Race | 0.6% | 3.0% |
Population Breakdown by Employment
| Women | Men |
| --- | --- |
| Healthcare & Social Assistance 18% | Manufacturing 31% |
| Manufacturing 18% | Construction 16% |
| Retail Trade 11% | Retail Trade 10% |
| Professional, Scientific, Technical Services 10% | Transportation 9% |
| Educational Services 8% | Wholesale Trade 6% |
| Public Administration 7% | Professional, Scientific, Technical Services 5% |
| Wholesale Trade 6% | Information 4% |
Code Enforcement and Building Permits
Look up code enforcement violations and building permit applications through our interactive tool Eye on Adams: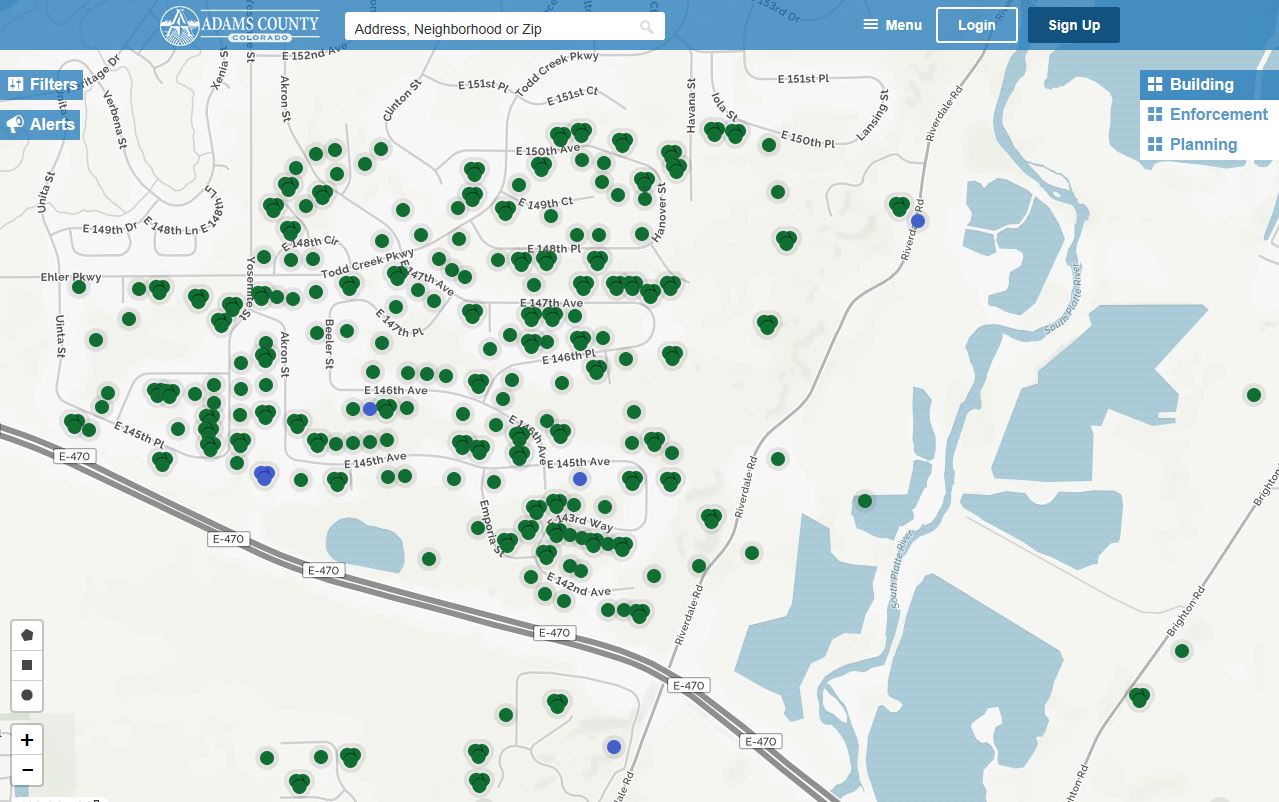 Land Use Cases: For current land use cases, visit the county's Community Economic and Development's Land Use Case site.
Oil and Gas Information: For weekly activity reports, current oil and gas cases, frequently asked questions, and more information, visit the Community Economic and Development Oil and Gas site.
Marijuana Information: There are no marijuana businesses within the identifed area. For more information on marijuana licensing in unincorporated Adams County, visit our Marijuana Licensing page.
Parks and Open Space
Current Top Three Projects in Todd Creek
Willow Bay Open Space Acquisition. Parks and Open Space is submitting two grant applications this fall for funding and the acquisition is being negotiated with the seller. If acquired, the Willow Bay property would be a publicly accessible open space where we may allow on-water, non-motorized recreation, picnicking, hiking, fishing, and wildlife watching. Willow Bay is just north of E-470 and west of Brighton Road.
Regional Park and Fairgrounds Master Plan. Parks and Open Space is creating a new master plan to address issues such as access, circulation, future facilities, recreation, and expansion of the grounds south to 120th Avenue. The Regional Park and Fairgrounds is located at 9755 Henderson Road.
The South Platte Regional Trail is nearing completion throughout unincorporated Adams County. By the end of the summer, the trail segment between 104th and 120th Avenues will be completed and open to the public. Users will then be able to walk or ride from 136th Avenue and Brighton Road all the way to Chatfield Reservoir. The City of Brighton has secured funding and is working to complete the remainder of the trail through Adams County. The South Platte Regional Trail is along the South Platte River, between 104th and 120th Avenues.
Logistics and Opportunities
The Willow Bay Open Space Acquisition would present new opportunities for residents to visit open space, picnic, walk, and possibly recreate on-water in non-motorized watercraft (paddleboards, kayaks, canoes, etc.). Positive impacts could be increased health from outdoor recreation activities.
The Regional Park and Fairgrounds Master Plan will create a vision for the future of the facility. All interest groups as well as the general public will be engaged in the process, so any potential impacts (positive or negative) will be weighed as recommendations are made.
The South Platte Regional Trail would present more accessible opportunities for residents to recreate in Adams County. This trail connects the Regional Park and Fairgrounds to metro Denver as far as Chatfield Reservoir. Increased health from outdoor recreation could be a potential positive impact from this project.
Future Plans
In connection with the Willow Bay acquisition, there may be an opportunity to build a portion of the Second Creek Trail that would eventually traverse the Brighton area into Commerce City.
The City of Brighton is working extensively on park and open space projects at Ken Mitchell Lakes, and on finishing the Adams County section of the South Platte River Trail. When these projects are completed, Todd Creek residents will have easy access to a multitude of high quality recreation areas.
Community Trends
We take care of a few weed complaints on public land in the Todd Creek area. Because Adams County's park and open space facilities are concentrated further south, we have little interaction with these residents.
Biggest Success Thus Far
The completion of the South Platte River Trail (in unincorporated Adams County) has been many, many years in the making and has been our number one requested connection. We anticipate this section will be fully open in the coming months. In addition, the expansion of the Regional Park and Fairgrounds was a successful effort in the past year. A parcel of land that borders the facility on the north was purchased to buffer the facility and protect the valuable natural resources associated with the property.
Transportation
Current Top Three Projects in Area
The street maintenance program is an ongoing program throughout Adams County to address proactive maintenance throughout the community.
One of several County improvements the Transportation Department oversees includes the seal program. The seal program is currently being implemented in this area including chip seal on the roadway.
YourGov citizen reporting activities which encompasses the entire County including these identified neighborhoods which helps to identify but is not limited to potholes, bridge concerns, trash/debris, as well as any transportation-related issue.
Locations of Projects
2011 Chip Seal - Eagle Shadow / Silver Springs / The Ridge At Riverdale
2012 Chip Seal - Baseline Lakes / Havana / 164th Avenue / Lima St
2013 Streets Paving – Creekside Estates / Twin Lakes Estates / Hi Land Acres / Todd Creek Farms
2014 Bridge Repair – Ehler Pkwy over Todd Creek / Yosemite over Todd Creek / Yosemite & SH 7 / Riverdale Road north of E-470
2015 Street Paving – Hi Land Acres / Todd Creek Farms / Yosemite (Ehler to SH 7)
2016 Seal Project – Eagle Shadow / Todd Creek Meadows
2016 Street Paving – Riverdale Road (SH 7 to approx. 150th Avenue) / Holly Street (SH 7 to 152nd Avenue)
Gravel Maintenance Program
As seen from the aerial views, the majority of the roads are paved. The roads that are gravel within the public right-of-way are maintained and handled through our gravel maintenance program.
Community Impacts During Projects
Road closures do occur during crack seal, resurfacing and repaving. Residents are adequately notified prior to improvements occurring in the area.
Future Plans in Todd Creek
The goal of the Transportation Department is to provide ongoing preventative maintenance as well as addressing and identifying potential improvement areas within the neighborhood. Each year, county roadways are assessed and an Overall Condition Index is determined. This annual assessments allows us to identify roadways in need of maintenance and ensure the overall roadway network is properly maintained.
Community Trends
Residents are thrilled with the ability to submit any Transportation Department related request through the "YourGov" app, which ensures their concerns are documented and addressed in a timely fashion.
Statistics
There have been 16 "YourGov" requests in this area. All have been addressed.
Successes
We are able to produce proactive as well as reactive response to concerns and requests in the area through our annual assessment program as well as the citizen utilization of the YourGov app. We have also been very active in these communities implementing ongoing roadway seal and paving projects.
Stormwater Update
We have over $300,000,000 worth of storm drainage projects that should be addressed in the County. These funds have been utilized with communications between the Board of County Commissioners and the County Manager's Office. In the Transportation Department, we attempt to balance the high-priority, high-impact projects in the most needed areas with the amount of funds provided by citizens. To the best of our knowledge, the homeowners in this area are contributing to the stormwater utility fund. The Transportation Department is unaware of any issues or actions. Citizens are welcome to share their issues or requests using the highly-acclaimed YourGov app.