Our Mission
The mission of the District Attorney's office is:
To pursue justice through the fair and ethical prosecution of criminal offenders.
To seek justice for victims of crime.
To create a safer community through positive partnerships with law enforcement and other community members, and to earn and hold the trust and respect of the citizens that we are privileged and honored to serve.
Additional Resources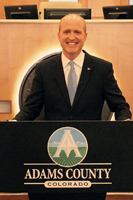 Contact
Brian Mason
District Attorney
1000 Judicial Center Dr.
Suite 100
Brighton, CO  80601
Ph: 303.659.7720
Fx: 303.835.5522
Hours
Monday - Friday
8 a.m. - 5 p.m.
(Excluding holidays)