The District Attorney's Office is focused on two primary goals: keeping the community safe and making our criminal justice system better. We do this by pursuing justice with integrity in every case and by holding ourselves to the highest standards of ethics and excellence.
There are many challenges facing the criminal justice system and our community right now. Here at the District Attorney's Office, we are committed to the following overarching goals:
Fighting for the vulnerable
Seeking justice for victims
Prosecuting offenders who commit violent crimes, domestic violence, human trafficking, drug trafficking, and other serious crimes that harm our community 
Acknowledging issues of racism, both implicit and explicit, within our system  
Focusing on education, outreach, and crime prevention, not just prosecution
Exploring alternatives to incarceration and keeping people out of the criminal justice system when diversion programs and other alternatives will keep the community safe
Addressing the mental health crisis in the criminal justice system and our profession.
The professional staff of the District Attorney's Office works tirelessly, day and night, to serve this community with integrity and professionalism. In short, we are committed to doing the right thing – at all times – in every case. That is our pledge. And we will do so with an abiding commitment to justice, integrity, fairness, empathy, transparency, courage, and the rule of law.
Additional Resources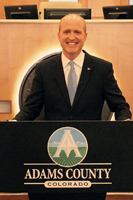 Contact
Brian Mason
District Attorney

1000 Judicial Center Dr.
Suite 100
Brighton, CO  80601

Ph: 303.659.7720
Fx: 303.835.5522

Hours
Monday - Friday
8 a.m. - 5 p.m.
(Excluding holidays)