Love Your Trails - Ground Mural Series
We are celebrating the incredible parks, open spaces and trail system in Adams County with a ground mural series dedicated to the natural beauty right here in AC. Fifteen artists are installing murals now through fall 2022. Get out on the trails and check it out!
Click 
here
to see a map of mural locations.
Artist Lineup:
---
Babe Walls, Adams County Pride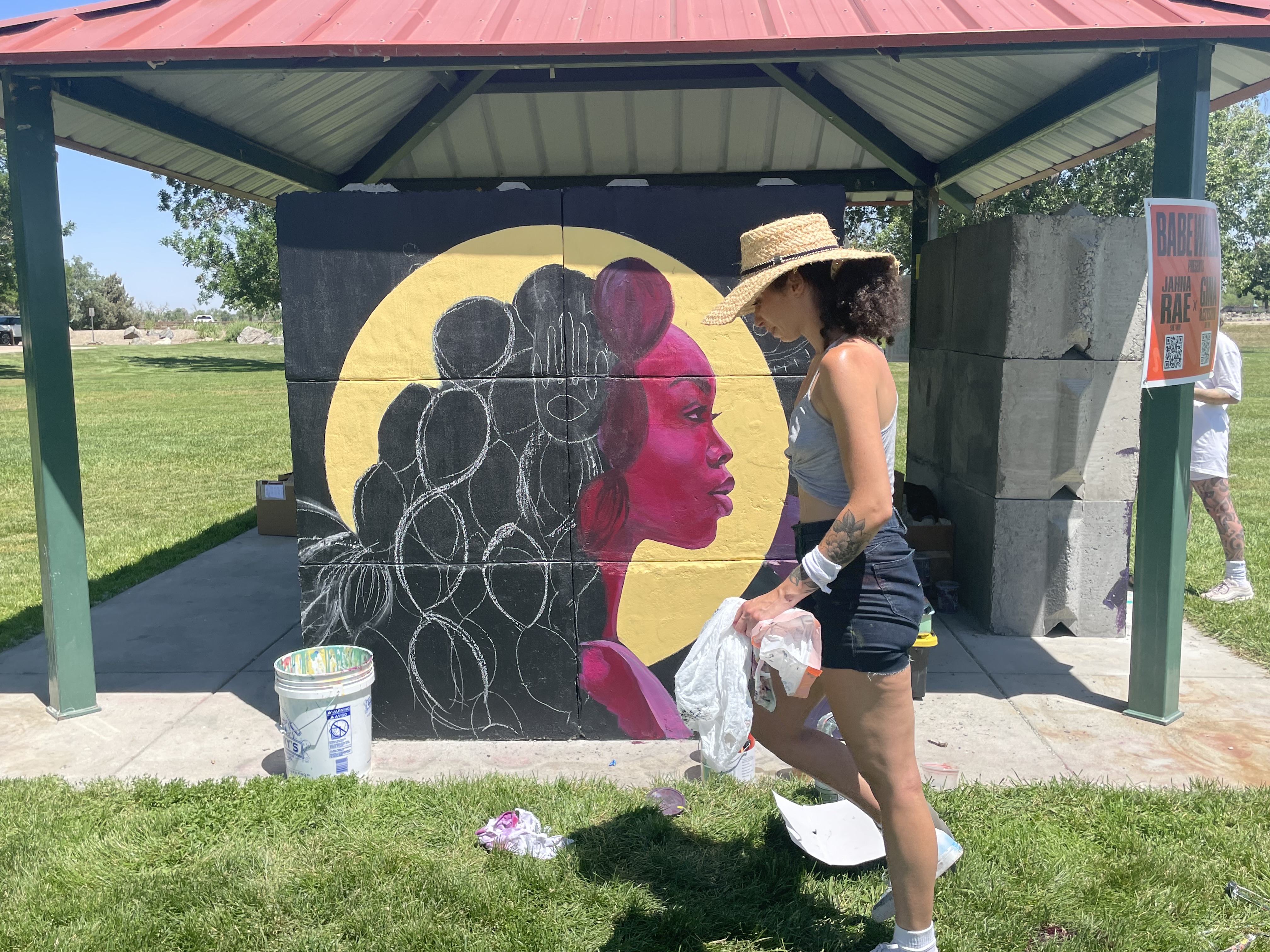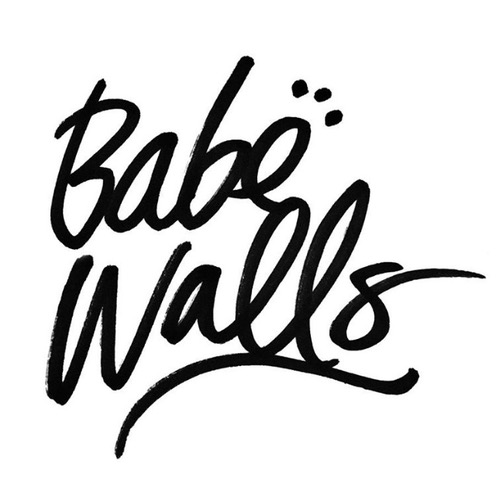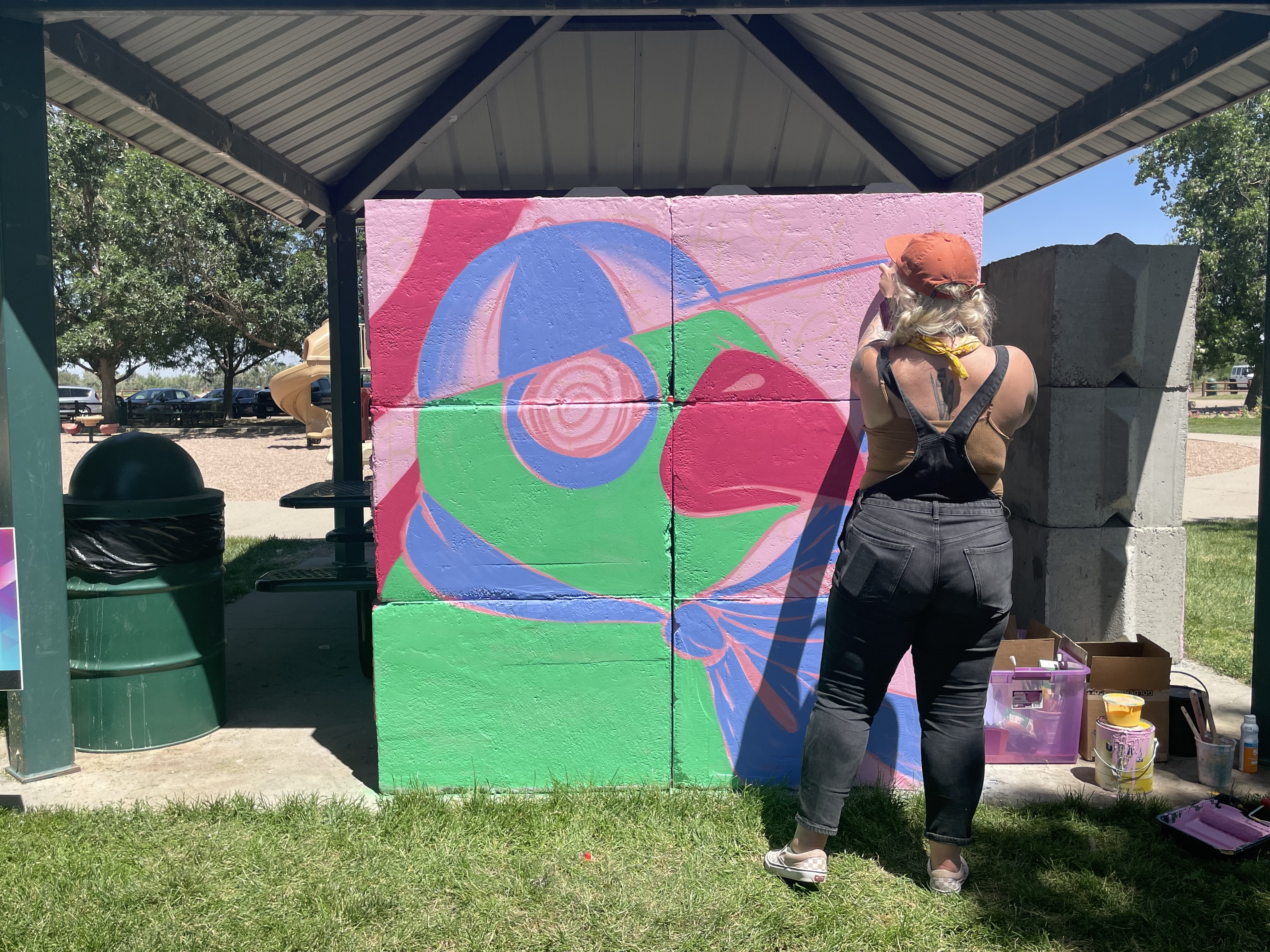 Babe Walls came to the inaugural Adams County PRIDE and painted seven murals with amazing local artists. Each wall was a collaboration between two artists, and a community wall gave young future babes space to create.
The walls are on display at Riverdale Regional Park for the next six months and will then be moved to new homes throughout the county. We'll share those locations when they go on tour!
Babe Walls AC Pride Artist Lineup:
---
Gallery at Taza Coffee House​
Living TRADITION:  Individual and Collective voices of Women's Caucus for Art Colorado
Living TRADITION features "Speak Her Name," a mural series honoring influential Colorado-based artists Eppie Archuleta, Senga Nengudi, Elizabeth Spalding, Jean Smith, and Betty Woodman. These women shaped Colorado's rich artistic landscape and continue to inspire future generations of artists.  
The mural series was painted collaboratively by members of the Women's Caucus for Art Colorado Chapter (WCACO). Living TRADITION shows paintings, drawings, and multi-media works by those individual artists. By placing solo works next to the jointly painted mural series, we celebrate distinct artistic voices coming together in harmony.
Participating Artists
Carol Bivins, Annette Coleman, Anne Emmons, Melody Epperson, Susann Gordon, Susan Hershman, Haley Knowles, Jenn Merz CQ, Lisa Michot, Kathy OConner
The mission of the WCACO is to create community through art, education, and social activism. WCACO furthers this mission by providing members with professional development and exhibition opportunities and a network of fellow artists to collaborate with and learn from. Female-identifying artists from all backgrounds and career levels are welcome. Learn more at www.wcaco.org . 
---
Clear Creek Welby Mural
Adams County Public Works constructed a box culvert to connect York St. to the Clear Creek Trail in the Welby neighborhood. Muralist Anna Charney installed her work around and within the tunnel, depicting the water flow of Clear Creek and the traffic flowing above on 224.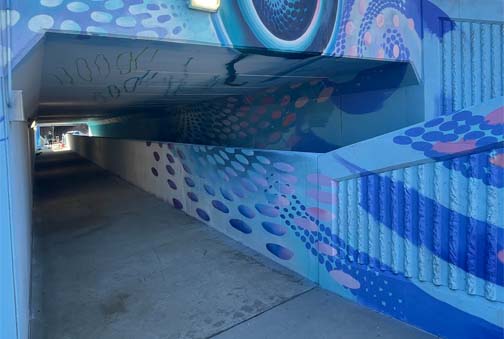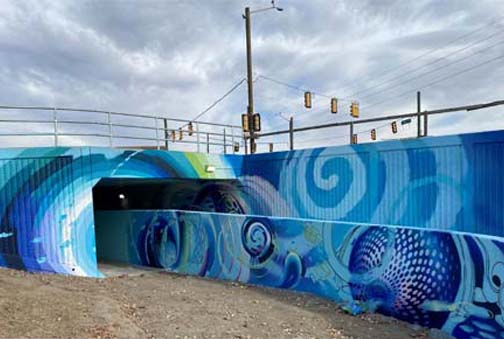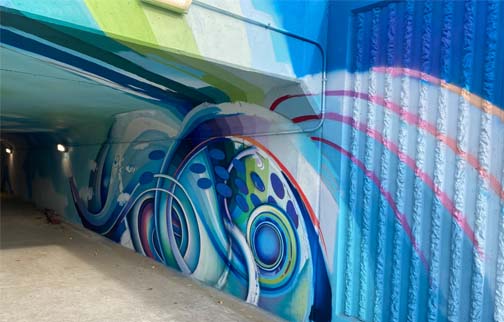 Check out Anna's work here or follow her @annacharneyart.
---
Murals for Hope

In response to the COVID-19 pandemic, the Adams County Parks, Open Space & Cultural Arts Department launched public art projects to bring hope and joy to communities, inspire residents and visitors, and fuel the local economy. Learn more about Murals for Hope and sculpture series here.
---
Xólotl: Dios Perro - Monumental Alebrije

Xólotl: Dios Perro (Dog Deity) is 20' tall paper-mâché sculpture, on display at the Adams County Human Services Center. Dios Perro is an Alebrije depicting the Aztec God Xólotl, Lord of the underworld. This joyful, vibrant work is by Mexican contemporary artist, Óscar Becerra-Mora. Click here to watch a short video and learn more about the sculpture.

In partnership with the Mexican Cultural Center Denver.