Gallery at Taza Coffee House
Main Street Creatives Showcase
 

Main Street Creatives is a vibrant artistic community just around the corner! What you see here is a taste of the collective's vast talent. Visit their gallery in Brighton to see more works by this group of local artists. This showcase celebrates the long-standing relationship between art and nature.

Artists have always mirrored and interpreted the world around them. Some artists explore the impact nature has on our daily lives by depicting a bounty from the garden or the simple love of an animal. Others transform natural materials to create their artwork, turning feathers into flowers. Main Street Creatives invites you to see the beauty, majesty, and inspiration found in nature through their eyes.
EXHIBITING ARTISTS:
Judith Dickinson, Sheri Farabaugh, Jo Griff, Terry Hagen, Edward Hansen, Kathy Hansen, Sharon Krohn, Sandie Mackenzie, Kary Mayes, M.J. McCafferty, and Millie Young 
ABOUT MAIN STREET CREATIVES:
Main Street Creatives is a studio space, gallery, and arts academy in downtown Brighton. What began as an experimental art space in 2011 has become a community that supports local talent, nurtures the next generation of artists, and offers programming for art enthusiasts of all ages. 
The artists of Main Street Creatives are dedicated to sharing their knowledge and talents with all who walk through their doors at 36 S. Main Street, Brighton. Visiting hours are 11 a.m. to 3 p.m. Tuesday through Saturday. Stop by on Tuesdays or Thursdays to meet one of the seventeen studio artists. Work on your own art and socialize at Open Paint every Thursday. 
Visit mainstreetcreatives.com to learn about upcoming events, classes, and art demonstrations.
UP NEXT:
Corridor Creative Arts League Group Exhibition
Corridor Creative Arts League (CCAL) was created in 2020 to support the artistic community in the I-70 corridor. Founders Jamie Zerr-Lockwood and Laurie identified a need for adults arts programming in their rural town of Bennett, CO. They created CCALL to being a greater understanding of art and the creative process to their community through adult art education classes in and is open to all skill levels. 
Past Exhibitions
Flora, Fauna, and the Cosmos Artworks by Christine Nguyen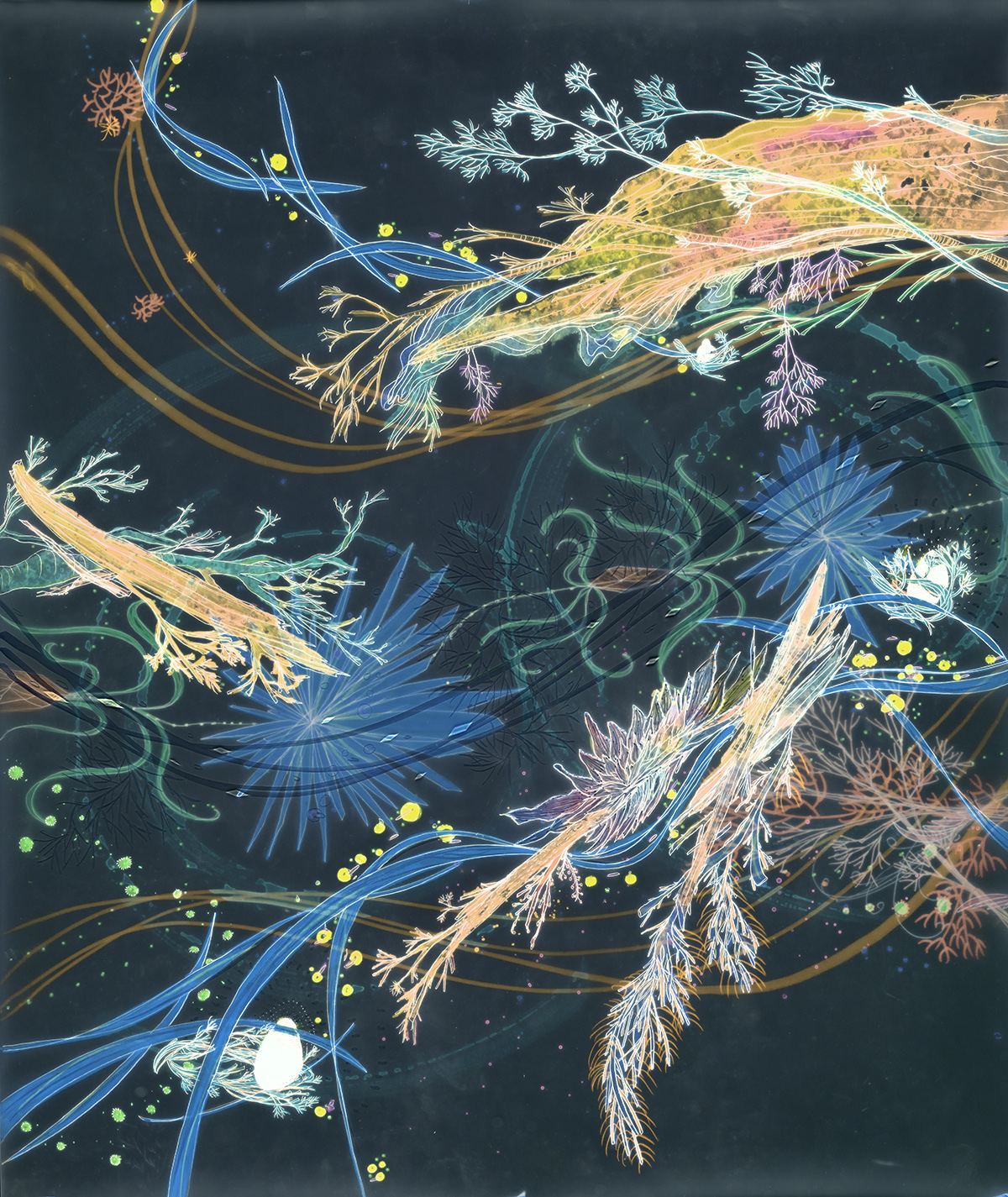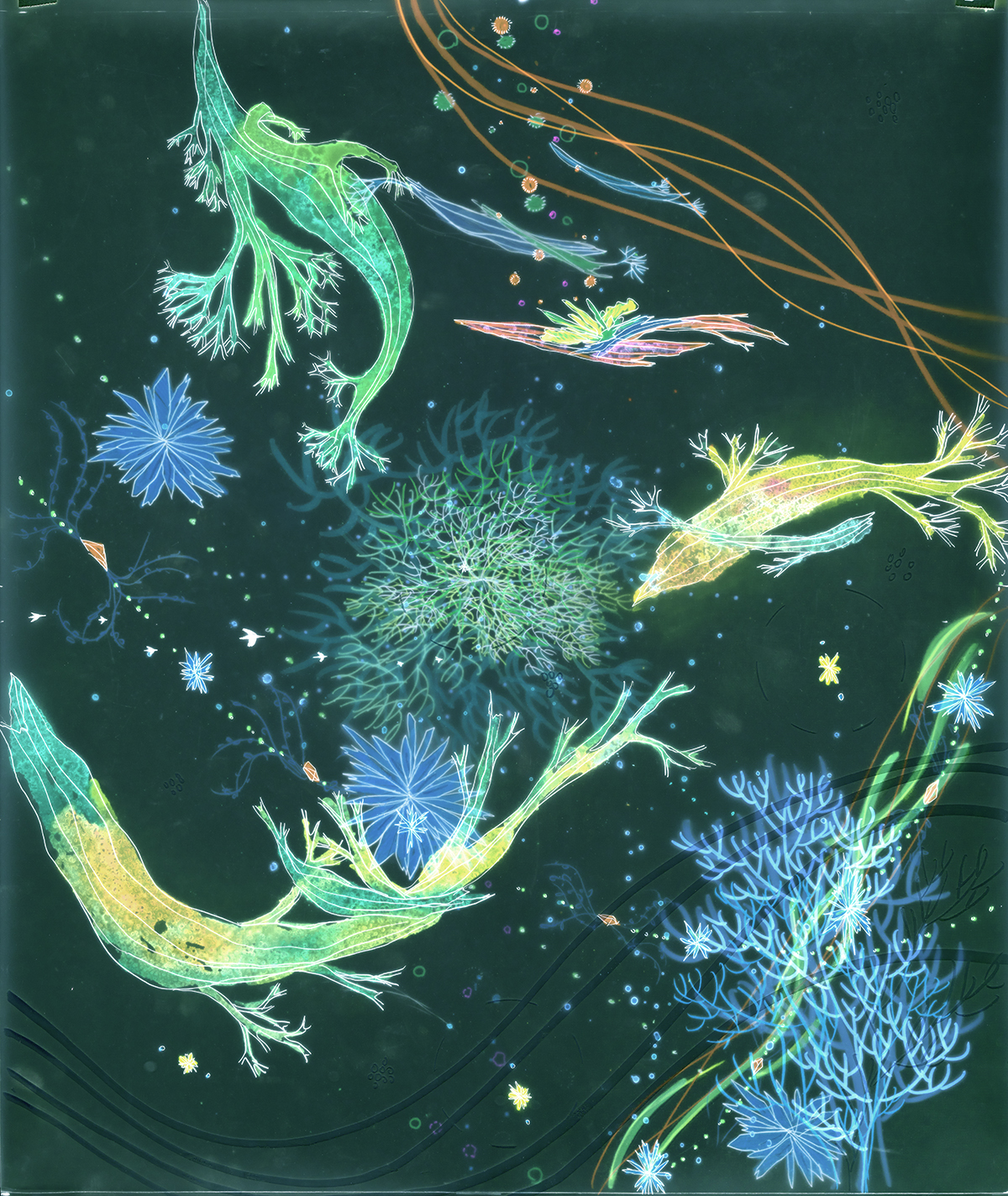 Left to right: Mountain Water I, Mountain Air II, Mountain Water IV
ABOUT THE EXHIBITION:
Christine Nguyen's art practice is devoted to the natural world and its curiosities, big and small. She is inspired by the cosmos and the ground beneath her feet. These works explore the fluctuation of micro and macro worlds - the way that looking into a microscope can reveal a galaxy.
Cosmic Sun And Moon Light is a 10 foot wide photo-painting with salt-crystals sparking across its surface. Elk, bison, and bald eagles move through a cosmic landscape of sunflowers, cottonwood trees, ash trees, and native grasses. These animals are on a sacred journey to the tree of life. Nguyen created this piece for her exhibition at Taza Gallery. It is inspired by the plants and animals of Adams County.
Visit Nguyen's website to purchase prints of all her artworks on view at Taza Gallery.
ABOUT THE ARTIST:
Christine Nguyen was born and raised in California and resides in Aurora, Colorado. She is a lover of animals, plants, nature, and the cosmos. 
Nguyen received her B.F.A. from California State University, Long Beach and an M.F.A. from the University of California, Irvine. Exhibitions of her work have been shown nationally and internationally. Her works can be found in museums such as the Carolyn Campagna Kleefeld Contemporary Art Museum; the J. Paul Getty Museum, Department of Photographs; the Grunwald Center for the Graphic Arts at UCLA; The Hammer Museum at UCLA; and the Long Beach Museum of Art. Nguyen's works are also found in the collections of Cedars-Sinai; Cleveland Clinic; the Getty Research Institute; Los Angeles World Airports; Microsoft; Burger Collection, Hong Kong; and The Royal Melbourne Institute of Technology, Hanoi.
www.christinenguyen.art | instagram.com/seamoonshe | @seamoonshe
Earth's Bounty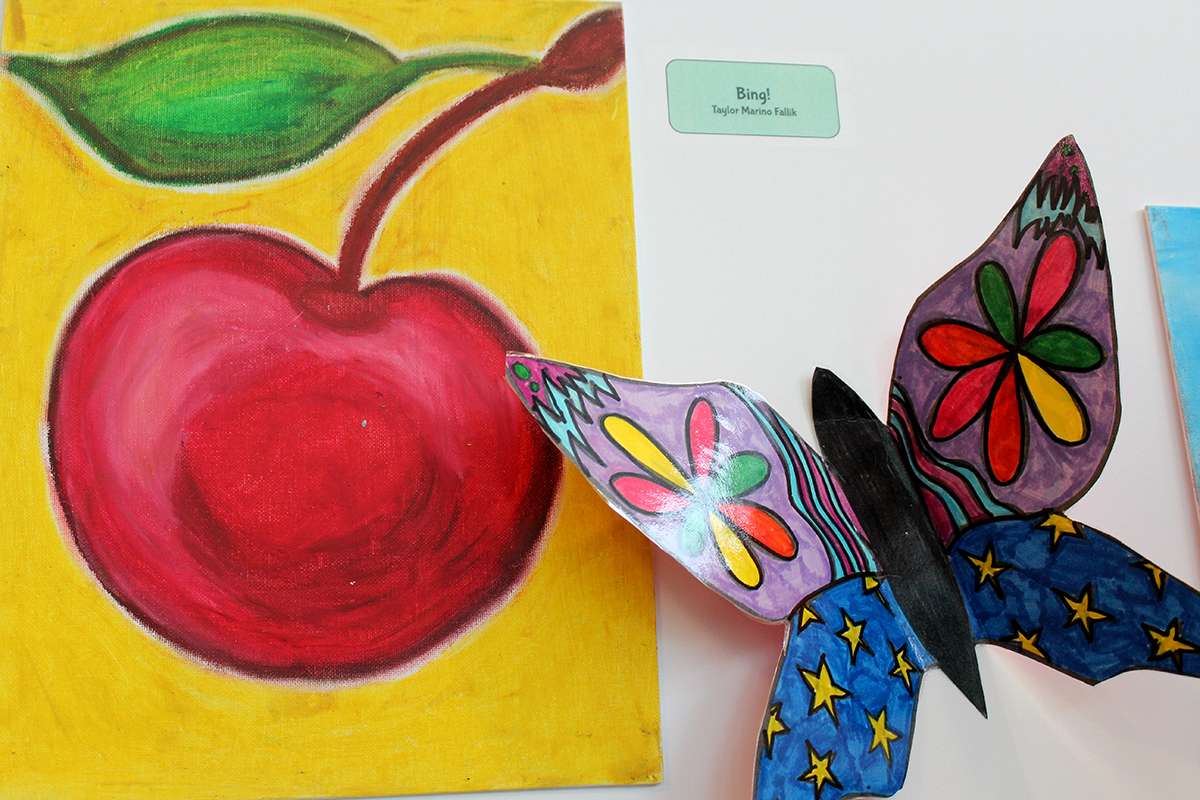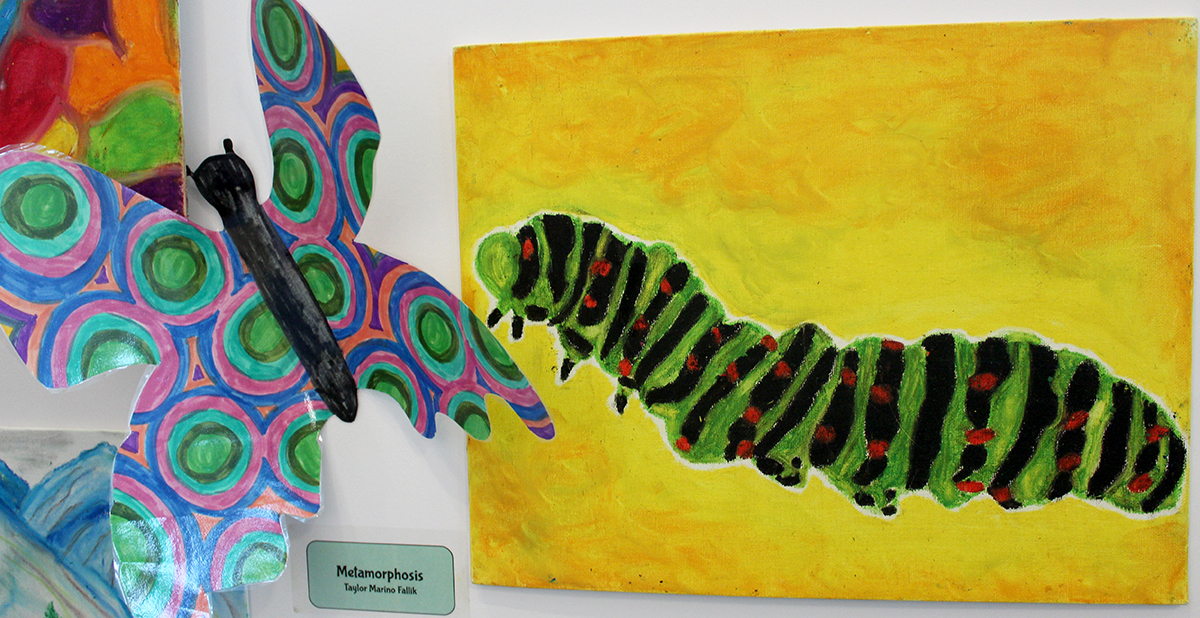 A collaborative art project featuring paintings by Roger Quist Middle School students and 17th Judicial District Attorney staff.
Quist teachers Taylor Marino Fallik, 8th grade Science, and Beth Marks-Berner, 8th grade English Language Arts, created a unique art club comprised of Quist students and District Attorney staff. 
From October 2021 to February 2022, students and staff created more than 100 oil pastel paintings and 60 paper butterflies. Each of these artworks represents the wonder of Earth and is a visual response to the simple but powerful question: WHAT DOES THE EARTH GIVE US?
To learn more about Earth's Bounty contact Taylor Marino Fallik at [email protected].
---
Capturing Landscape by Angel Estrada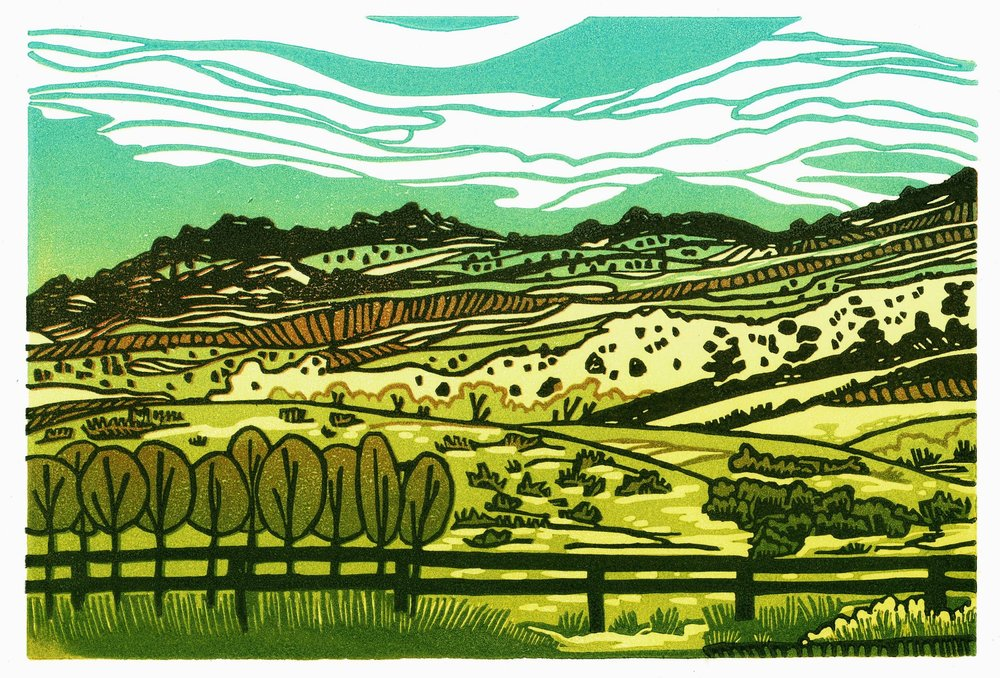 Angel Estrada is an educator and artist based in Denver. Angel's art practice is largely based in printmaking and his work celebrates the tradition of printmaking – from intricate carving to stamping – and his work often depicts local Colorado landscapes. He is a teacher at Thornton High School. 
Learn more about Angel and his work and follow him at @estrada_printmaking.