how can you


USE THE TOOL SHED?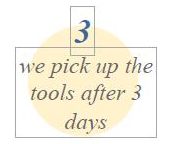 ---
Available Tools
(Electric unless otherwise noted)
The entire tool shed can be borrowed for Neighborhood Cleanups ONLY.
Lawn Mowers
Weed Trimmers
Edgers
Hedge Trimmers
Leaf Blowers
Weed Pullers
Leaf rakes
100-ft Garden Hoses
Hose Spray Nozzles
Electric Cords

Spade Shovels
Square Shovels
Trowel Planters
Two-Pong Garden Hoes
Wheelbarrows
D-Handle Drain Spade Shovels
Hand Tiller/Cultivator
Tree Pruner
Loopers
Industrial Push Brooms

Hand Shears
Post Hole Digger
Garden Hoes
Trash Pick-Up Poles
5-Gallon Buckets & Lids
32-Gallon Trash Cans & Lids
Trash bags
Safety Cones
Safety Vests
Safety Goggles
| | | |
| --- | --- | --- |
|   | | |
| ___________ | ___________ | ___________ |
Participation Requirements & Forms
Borrowers must be 18 years old or over and have a valid ID when reserving and during tool drop-off. The entire Tool Shed may only be rented for a neighborhood cleanup and is available one time per month. Reservations are on a first-come-first-serve basis. Forms listed below the borrower category MUST be completed before tools can be dropped off.
Resources
This guide will walk you through
the Tool Shed process and
required paperwork. 

Need help with essential repairs?
You may qualify for assistance. 

CSU Extension Master Gardeners
can provide advice on gardening,
insects, and much more!  
Videos & Articles
| | |
| --- | --- |
| | |
| Adams County Introduces the Tool Shed | Neighborhood Cleanup Coverage by CBS Colorado |
FOX31, April 7, 2021 
CBS Colorado, May 10, 2022