62nd Avenue Pecos to Washington
Project Overview
Adams County is improving the 62nd Parkway and 62nd Avenue corridor between Pecos Street and Washington Street. The overall objectives for this project are to:
IMPROVE roadway safety, traffic operation functionality, pedestrian access facilities, and drainage system
REDUCE long-term operation costs
REFLECT the County Transportation and Comprehensive Plan and Making Connections/SW Adams County Plan
The Project consists of widening/reconstructing roadway; improving intersections; installing curbs, gutters, sidewalks, ADA ramps, drainage system with water quality features; and implementing landscaping to improve safety, environment, and increase mobility capacity to serve increased growth and economic development.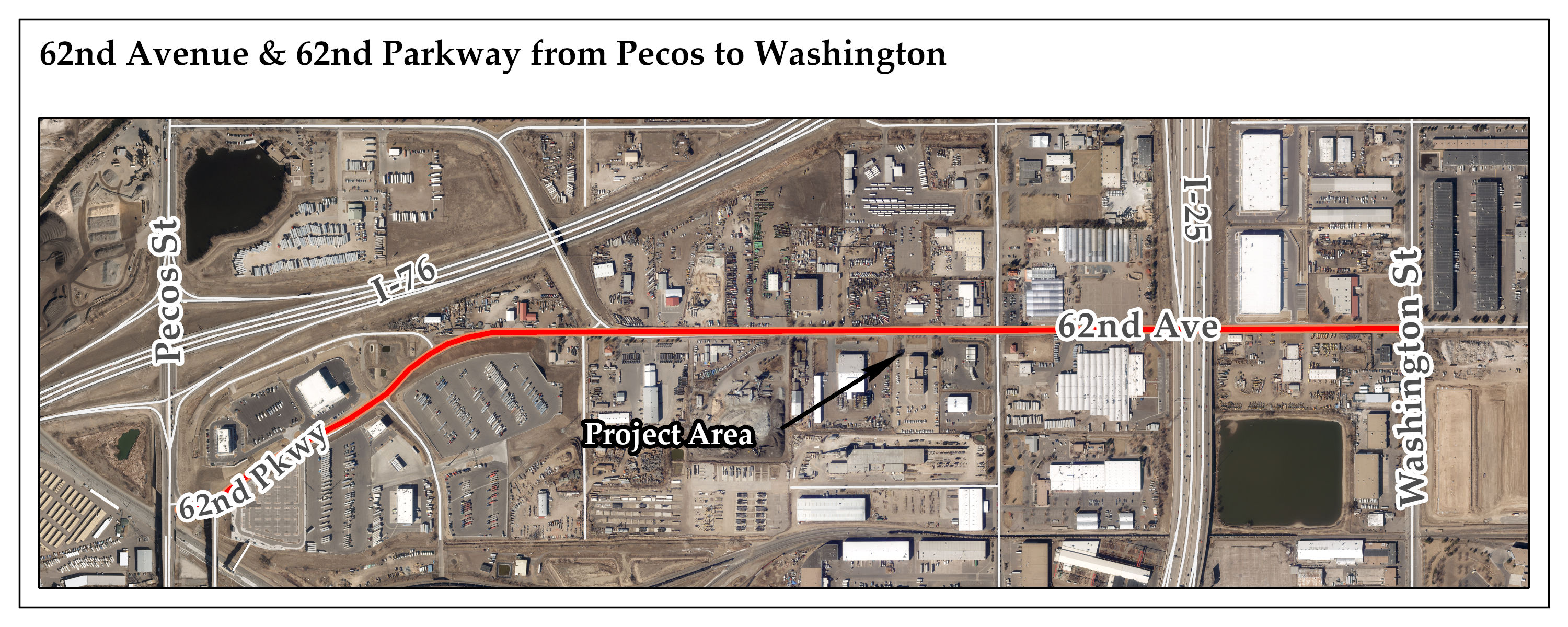 Project Schedule
The county recently added additional scope to upgrade the storm trunk line between 62nd Ave and I-76 and regional water quality pond to the project. The project schedule is listed below.  
All dates below are estimated and subject to change.
30% Design by Feb 2021 (Alternative and Preliminary Concept)
60% Design by May 2021 
100% Design and complete Right-of-Way Acquisition by June 2022
Advertisement for the project construction is anticipated in Third Quarter 2022 and Construction Completion is anticipated in Second Quarter 2024.
| | |
| --- | --- |
| | |
| Huron Intersection looking east | Looking west to Pecos |
| | |
| Looking west to Pecos | Washington intersection looking SE |
Note that this project is concurrent with the Broadway and 62nd Avenue drainage improvements project.
Contact Information
Adams County Public Works
Jennifer Shi, P.E., Project Manager
720.523.6875 | Email