Project Overview
Adams County is improving the 62nd Parkway and 62nd Avenue corridor between Pecos Street and Washington Street. The overall objectives for this project are to:
IMPROVE roadway safety, traffic operation functionality, pedestrian access facilities, and drainage system
REDUCE long-term operation costs
REFLECT the County Transportation and Comprehensive Plan and Making Connections/SW Adams County Plan
The Project consists of widening/reconstructing roadway; improving intersections; installing curbs, gutters, sidewalks, ADA ramps, drainage system with water quality features; and implementing landscaping to improve safety, environment, and increase mobility capacity to serve increased growth and economic development.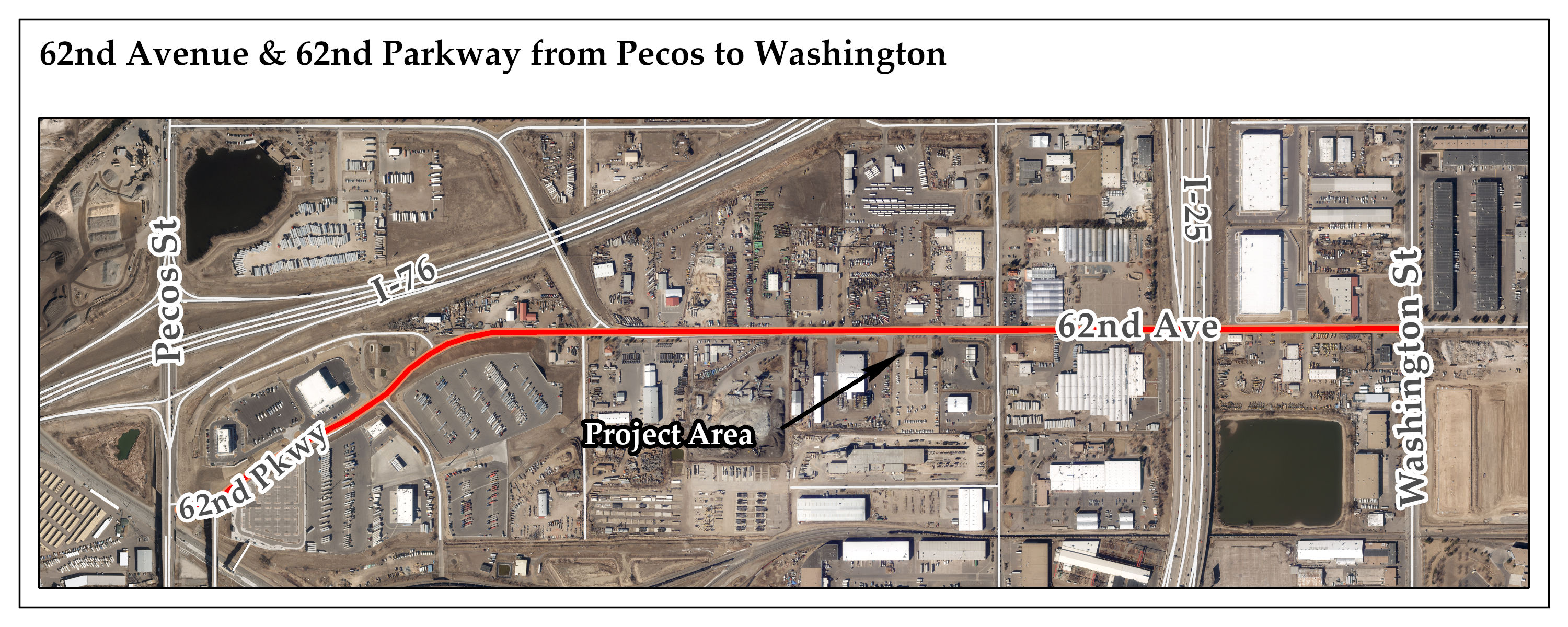 Public Meetings
Three virtual public meetings on the following dates:
First Virtual Public Meeting – November 2020
Second Virtual Public Meeting – March 2021
Third Virtual Public Meeting - March 2023
Project Schedule
The county recently added additional scope to upgrade the storm trunk line between 62nd Ave and I-76 and regional water quality pond to the project. The project schedule is listed below.  
All dates below are estimated and subject to change.
30% Design by First Quarter 2021 (Alternative and Preliminary Concept)
60% Design by First Quarter 2022
100% Design and complete Right-of-Way Acquisition by Second Quarter 2023
Advertisement for the project construction is anticipated in October 2023 and Construction Completion is anticipated in December 2025.
| | |
| --- | --- |
| | |
| Huron Intersection looking east | Looking west to Pecos |
| | |
| Looking west to Pecos | Washington intersection looking SE |
Note that this project is concurrent with the Broadway and 62nd Avenue drainage improvements project.
Contact Information
Adams County Public Works
Jennifer Shi, P.E., Project Manager
720.523.6875 | Email