Illicit Discharges
Illicit discharges are the intentional dumping or accidentally spilling of materials into the storm sewer, gutters, drainageways, waterways, and ditches. Per Adams County Ordinance 11, an illicit discharge is any unauthorized substance entering into the storm sewer system excluding rain water. Some examples that harm our water supply are:
Homeowners and landscapers staging compost and topsoil piles in the street for future landscaping activities, blocking the flowline along the curb and gutter. This decreases flood control volume of drainage structures, and the organic materials decompose, creating algae blooms and consuming oxygen in ponds and waterways. Over-application of fertilizer and grass clippings are also nutrients that reduce oxygen levels impacting aquatic life.
A swimming pool owner sandblasts paint off the pool walls and releases the paint residue and pool water onto the street, flowing into a storm sewer inlet and entering a creek.
Restaurant worker dumps used cooking oil into a parking lot drain that connects to a reservoir used for drinking water.
Homeowner washes apaint brushes off in the street where the colored paint travels to a storm sewer inlet and discharges to the neighborhood waterway along a bike path.
A contractor pressure washes a dirty parking lot, washing trash, oil, grease, metals, salts and sand into the adjacent creek.
A resident walks his dog in a neighborhood park and picks up after his dog but tosses the bags of pet waste into the storm sewer inlet.
A concrete truck at a construction site dumps the remaining concrete liquid on a lot that drains to a creek. Concrete waste is similar to Drano and is harmful to animals and people that come in contact with the water.
Illegal Dumping
Dumping into roadside ditches, as well as any other public or private areas, is also unlawful in unincorporated Adams County per Adams County Development Standards and Regulations 9-05-04 WATERCOURSE PROTECTION.
Large trash and debris can clog culverts, block storm drain inlets, divert flows, and reduce the conveyance capacity of channels, streams and watercourses creating a flood hazard.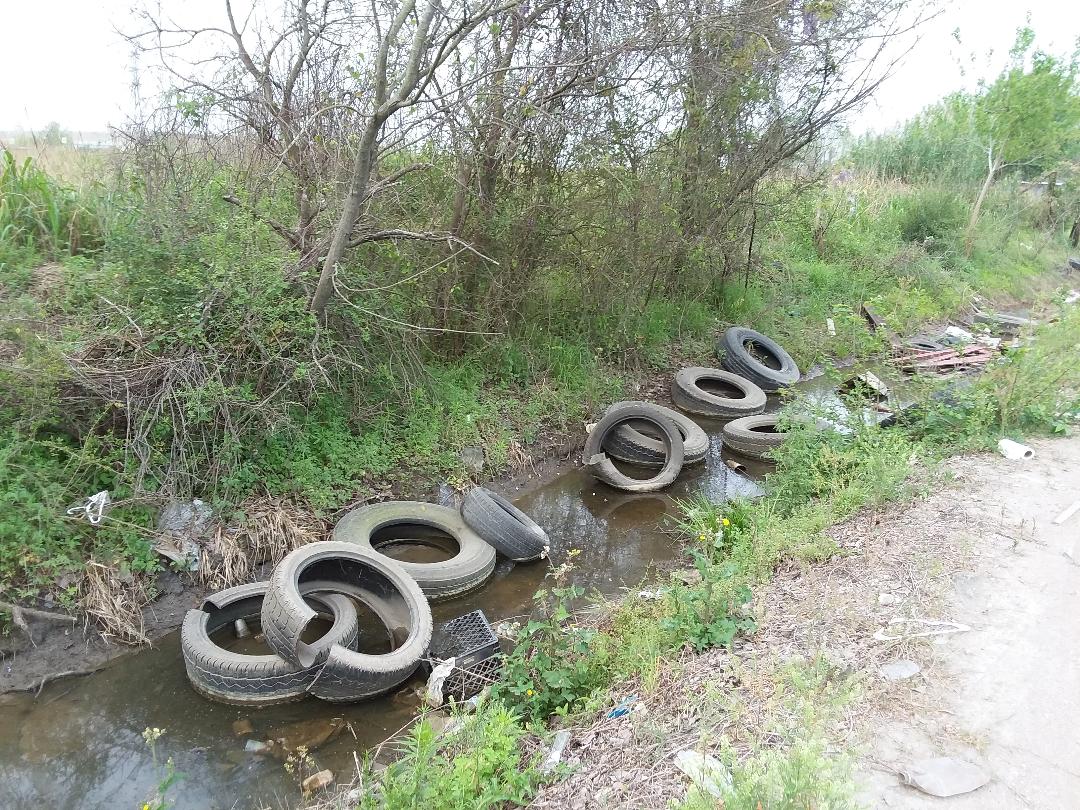 Dumping includes yard or construction waste, appliances, mattresses, sofas, tires, TVs, shopping carts, brush, fill, etc.  
Visit the Adams County Event Calendar for Neighborhood Clean-up events, Electronic Recycling Events, Tree debris drop-off events, etc.
Landfill discounts: The East Regional Landfill facility at 8201 Schumaker Road, Bennett, CO 80102 offers a 50% discounted disposal rate for residentially-generated acceptable waste to County residents Monday through Friday of the second week of every month.  Residents desiring to receive this discount must show proof of residency in Adams County to the landfill operator in the form of a property tax bill or utility bill.
For mattress and tire disposal, visit: https://earth911.com.
Reporting Procedures
Call Adams County Stormwater at 720.523.6400 or e-mail [email protected].
Call Tri-County Health Department at 303.220.9200.
Call 911 for emergencies if you believe this is an urgent water quality concern or witness illegal dumping in progress.