Project Overview
The 2022 Street Paving Program is a significant street maintenance program with approximately 73 lane miles in four different areas of unincorporated Adams County. These areas have been identified as priorities for rehabilitation in the county's Transportation Asset Management System (TAMS).
The program encompasses four different areas in the county. See the maps below (click to enlarge):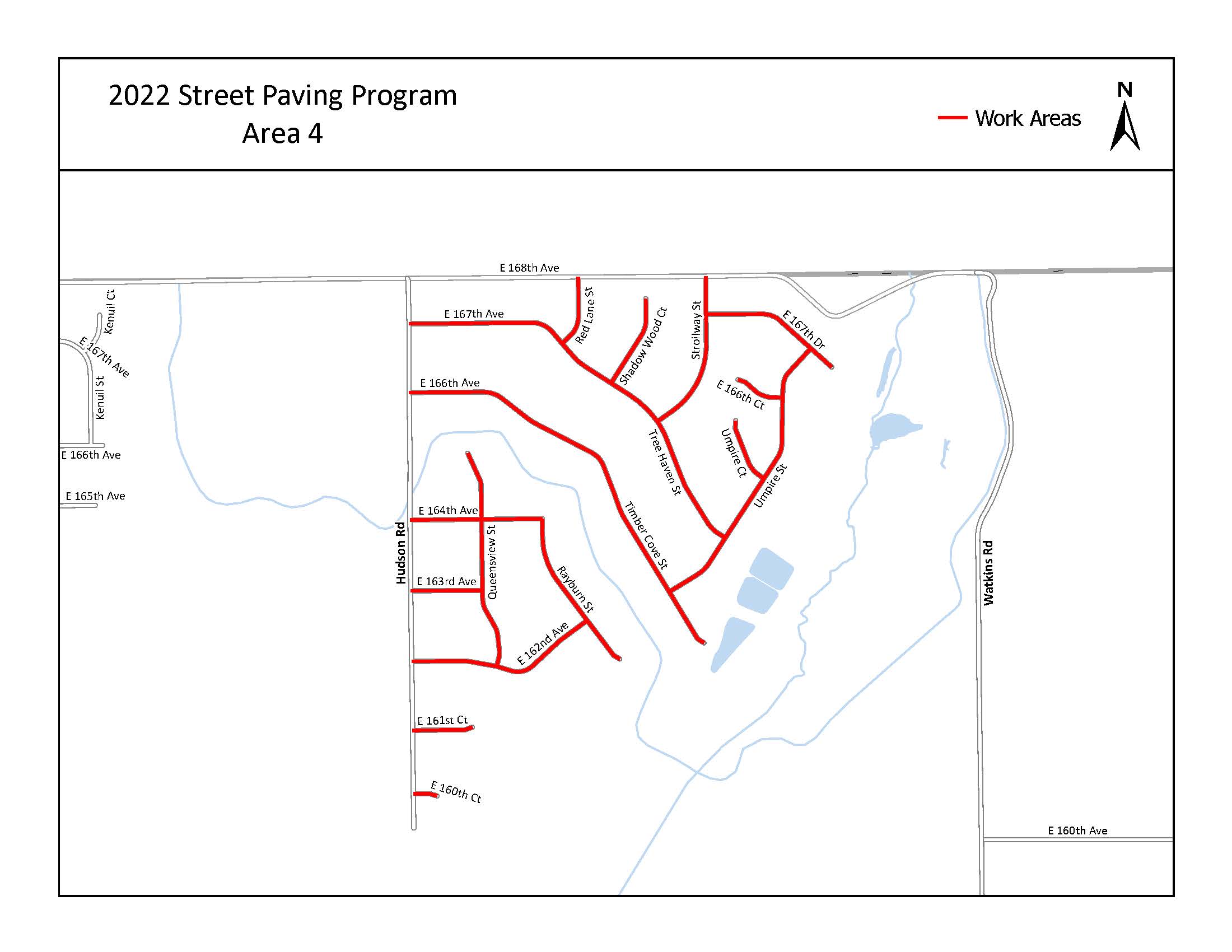 Open House/Jornada Abierta al Público
Wednesday, June 29, 2022, 5--6 p.m.
Anythink Brighton Library
327 E. Bridge St., Brighton
The following boards were presented at the May 19 Open House (click to enlarge):
Project Update
Week of Aug. 14
For the work week of Monday, August 15 through Friday, August 19 there will be single lane closures while crews perform street maintenance and repairs in two areas of Adams County - including the Shaw Heights, Welby and Box Elder Creek Ranch neighborhoods.
Working hours are Monday – Friday from 8 a.m. to 4 p.m. The work locations and type of work planned are listed below:
Asphalt street paving locations for Shaw Heights (Area 1) These streets were rescheduled from last week due to a water line break in the area.
Wednesday – Friday
Highland Place, from Lander St. to Hastings Way
W. 89th Ave., from Lander St. to Lowell Blvd.
Lowell Blvd., from LaSalle Pl. to W. 88th Ct.
Asphalt patching sections of the following streets for Welby (Area 2)
Monday – Friday
Elati St./ Delaware St.
Delaware St.W. 83rd Way
Delaware St./ Cherokee St.
Marigold Drive
Douglas Drive
 Asphalt milling/removal locations for Box Elder Creek Ranch (Area 4)
Monday – Friday
Umpire Ct./ E. 166th Ct./Umpire St./ E.167th Dr
Stroliway St./ Shadow Wood Ct./ Red Lane St.
Tree Haven St./ E.167th Ave
If you have questions regarding the street repair project, please contact the public information team. 
Adams County 2022 Street Paving Program
Public Information Team
Ph. 720.894.0941
Contact Information
Project Phone Line: 720.523.6875
Project Email: [email protected]