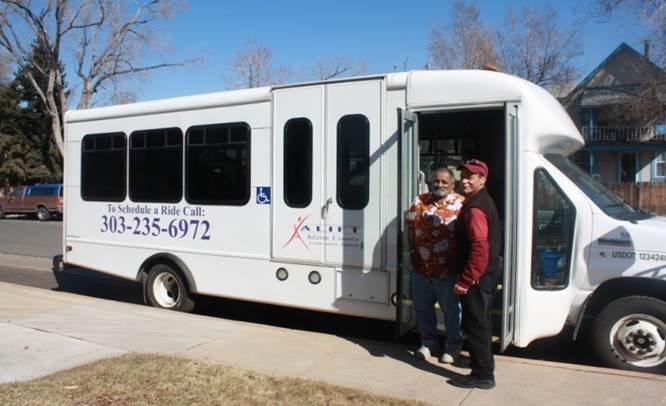 The Community Transit program is a joint project between Adams County and the cities of Arvada, Commerce City, Federal Heights, Thornton, Northglenn, and Westminster to improve transportation services for our shared aging community in Adams County. This is a grant- and community-funded program and all rides are free.
Services are available to Adams County residents who are 55 years of age or better, and individuals with physical disabilities within the same age parameters. These services are provided through a transportation broker in coordination with Adams County and the partner cities. Transportation services are provided for medical and nutritional needs. This program provides over 21,000 rides every year to residents 55 years of age or better. To reserve a ride on our A-Lift, please call 303.447.9636.
In addition to our A-Lift Program, there are currently additional providers available to assist elder transportation needs:
Denver Regional Council of Governments (DRCOG) can assist with transportation coordination and local information on free or low cost rides available to people 60+. Please call 303.480.6700 or visit them online.
Via Mobility can assist with transportation coordination and local information.
There is also a regional transportation guide provided by the Denver Regional Mobility and Access Council (DRMAC). 
Mission Statement
To promote mobility and independence for older adults and disabled individuals through a community partnership that is committed to accessible and affordable transportation in Adams County.