Project Overview
The overall objective of this project is to provide neighborhood improvements to improve roadway safety, mobility, pedestrian access facilities, and the drainage system within project limits in the Goat Hill neighborhood. The following roadway segments are being analyzed for improvements:
Irving St from W 67th Ave to Creekside Dr
Hooker St from W 67th Ave to W 68th Ave
Grove St from W 67th Ave to W 68th Ave
Green Ct from W 67th Ave to W 68th Ave
W 68th Ave from Julian St to Hooker St
W 67th Ave from Irving St to Federal Blvd
Improvements to these roadway sections may include, but are not limited to, widened roadways, curb & gutter, sidewalks (including ramps and facilities in compliance with the Americans with Disabilities Act), pedestrian crossings, relocation of objects in the right-of-way, relocation of existing utilities, and improvement of the stormwater drainage systems, including the incorporation of stormwater quality treatment facilities.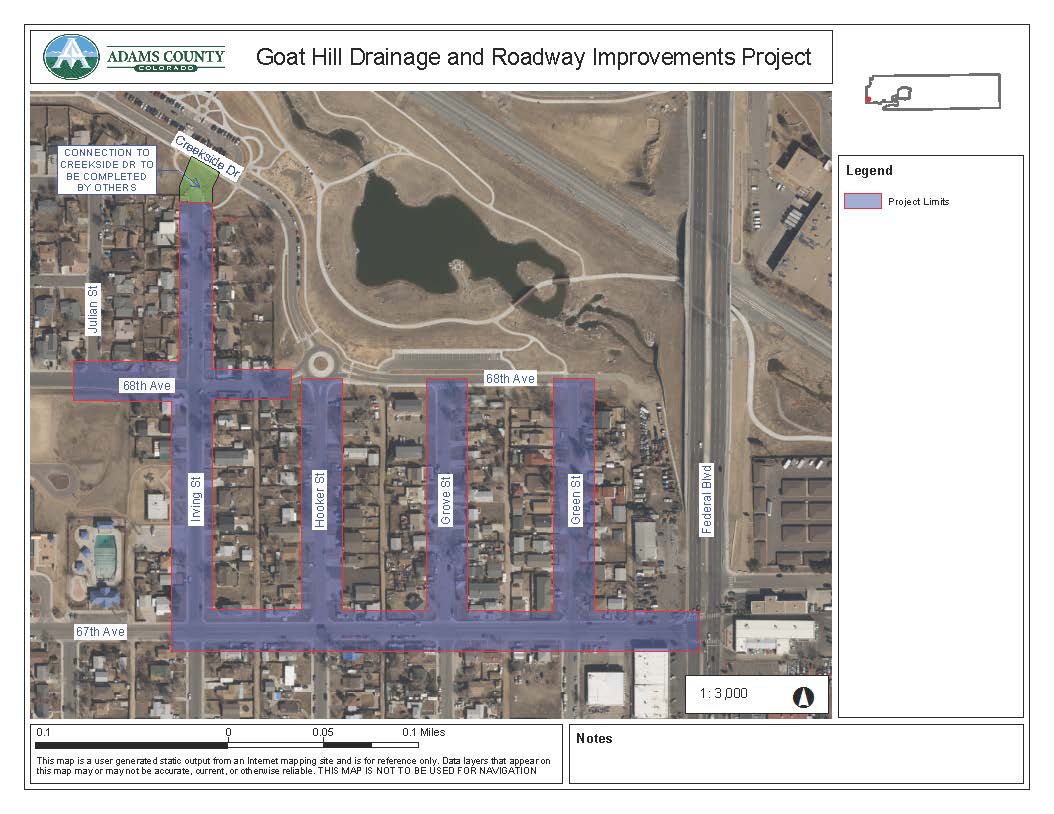 Project Update
The project is currently in the design phase, which is expected to be completed in 2022. All dates below are estimates and are subject to change.
Virtual Public Meeting No. 2 – March 2021
Preferred Design Completion – March 2022
Virtual Public Meeting No. 3 – April 2022
Final Design Completion – September 2022
Notifications will be sent out prior to each virtual public meeting to all property owners and residents of this neighborhood.
Actualización del Proyecto
El proyecto actualmente se encuentra en la fase de diseño, que se espera completar en 2022. Todas las fechas a continuación son estimadas y están sujetas a cambiar.
Reunión Pública Virtual Número 2 – Marzo 2021
Finalización del diseño preferido – Marzo 2022
Reunión Pública Virtual Número 2 – Abril 2022
Finalización del diseño final – Septiembre 2022
Se enviarán notificaciones antes de cada reunión publica virtual a todos los propietarios y residentes de este vecindario.
Contact Information
For project specific information or to share questions or concerns, please contact:
Byron Glenn, Project Manager
HCL Engineering & Surveying
303.773.1605 | Email
or
Russell Nelson, Project Manager
Adams County
720.523.6875 | Email