Calling all local schools and nonprofits!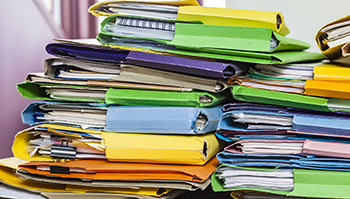 The Adams County Board of Commissioners approved a new policy that allows the county to donate surplus and excess office items and furniture to school districts and local nonprofits on a regular basis. This new policy, which is a collaboration between the Purchasing and Sustainability Offices, will allow the county to support the mission of valuable nonprofits and schools that operate within our jurisdictions and also will reduce the amount of waste the county sends to landfills.
While we cannot guarantee what items will be available on a monthly basis, the county has a consistent supply of standard office materials like binders, file folders, desk organizers, and other office items. We regularly receive items such as projector screens, tri-fold displays, cubicle walls and furniture, white boards, printers, and other items. We strive to provide high-quality materials to our local organizations, and the best way to know what is available at a given time is to join our email list for available items.
On a monthly basis, the county's Office of Sustainability will send an email to a distribution list of school districts and nonprofits that have been approved by the county manager's office. Please email [email protected] to request approval to be added to this list. Once we send out our monthly email, including pictures of available items, simply reply with a request for the items that interest you, and we will work with you to arrange for item pick-up. We will provide a simple donation receipt to track the exchange, and then the items are yours to use for the benefit of your mission.
Thank you for the valuable work you do for our communities and for helping Adams County to be more sustainable.