Posted on: September 28, 2021
On Thursday, Oct. 7, Adams County will host a virtual public meeting for the second phase of the Advancing Adams master planning effort. The Advancing Adams planning process, which kicked off in August 2020 and concludes in spring 2022, will result in a trio of long-range master planning documents – a Comprehensive Plan, a Transportation & Mobility Master Plan (TMP), and a Parks, Open Space & Trails Plan (POST). Reports on existing conditions and opportunities for each of these plans can be found at advancingadams.org.
The virtual public meeting on Oct. 7, 6-7:30 p.m., will focus on sharing progress on the three ongoing master plans with the Adams County community and seeking public input and direction on key proposals including growth strategies, future land uses, policies, programs, and priorities. Participants will be given the chance to participate in the planning process with interactive engagement tools including live surveying, commenting, and open discussion.
The public meeting will be supplemented with a more detailed online survey in mid-October. The survey will give participants from the public meeting, as well as those who did not participate, a chance to share their ideas, preferences, and priorities with the Advancing Adams planning team.
Adams County invites all members of the community to participate in this important event via Zoom. Register for the meeting here or by scanning the QR code below. Information on how to join the call will be shared with participants prior to the meeting.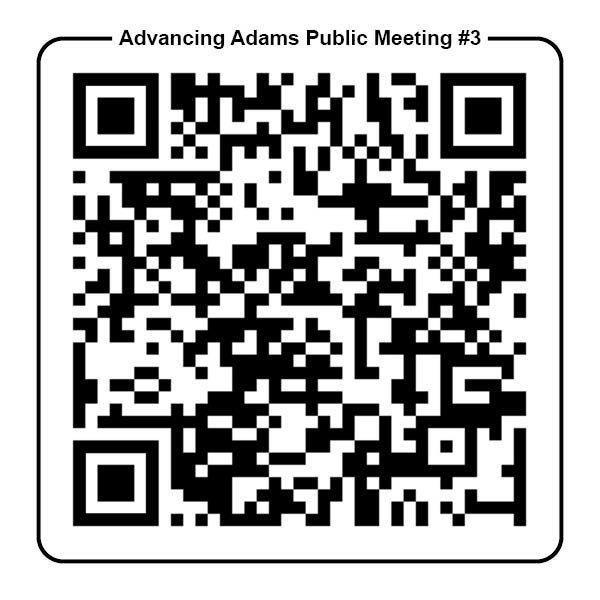 ---